BOTOX,XEOMIN,DYSPORT
Botox (Allergan), Dysport (Galderma), and Xeomin (Merz) are all injectable neuromodulators, meaning they can temporarily alter the nerve impulses of targeted muscles, therefore reducing or eliminating contraction-induced wrinkles.
Each brand has a slightly different formulation of the same substance, bacterium Clostridium Botulinum, or Botulinum Toxin A, but they all work the same way: they block the nerve impulses of the injected muscles to temporarily paralyze muscle movements that cause wrinkles. The most common targets are horizontal lines across the forehead and perpendicular frown lines between the brows (also called "The Elevens"), but many also rely on Botox, Dysport, and Xeomin for crow's feet, nasal squint lines, lines around the neck, eyebrow lifting, and even profuse underarm sweating and migraines.
What can Botox do for me?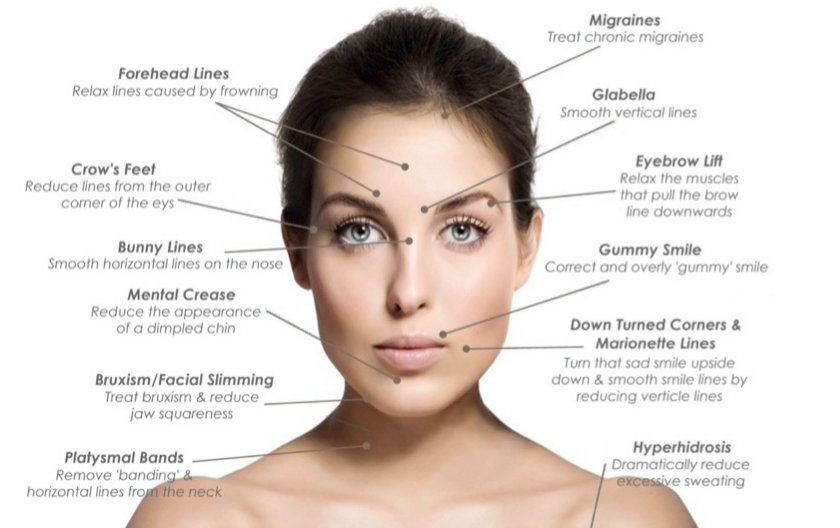 FAQ
Disclaimer: As always, this information is provided to you for educational and/or informational purposes only, and should not be construed as an endorsement of any particular product, treatment, or procedure. This information is not a substitute for medical advice, diagnoses, or treatment by a doctor or other qualified health care professional. For medical concerns, including decisions about any procedure or treatment, users should always consult our doctor or other qualified health care professional. Please visit our Terms of Service to view our full disclaimers.