What is eMatrix Fractional Laser?
Natural Beauty Laser offers an Advanced Skin Rejuvenation treatment utilizing eMatrix (Syneron unique Sublative Rejuvenation™) along with a Proven Enhancement Technologies to go beyond traditional fractional methods for skin resurfacing.  We can significantly improve the look and texture of your skin with little or no downtime!
If you are looking for laser skin tightening for face, neck and chest, don't look farther.
We are using the best skin tightening laser treatment in Delray Beach FL with minimum downtime and with Maximum results.
The eMatrix is a safe treatment for skin tightening. The RF technology will provide you tightening youthful skin, without the risk of Hyperpigmentation or Hypopigmentation.
If you are looking for a safe and effective skin tightening, Our Medical spa in Delray Beach FL will provide you with the results that you are looking for.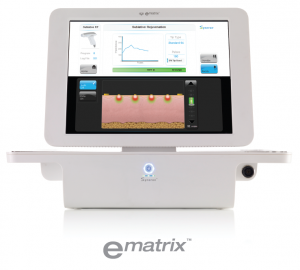 We are very fortunate to have excellent Google reviews from our clients, Here's what they're saying about us
The ladies at Natural Beauty really know how to transform your skin!! They not only made my skin look better but it's actually healthier. I got the ematrix and hydra glowing facial done. Would highly recommend!! It's always VERY clean and the staff is really nice. I would highly recommend Natural Beauty Laser for the best laser skin tightening in Delray Beach FL.
I just had my third Ematrix Fractional Laser treatment with Natural Beauty Laser and I am thrilled with the results. My skin is noticeably smoother and my complexion brighter. It has also reduced dark marks left behind from acne. There is some down time involved so I always schedule my treatment on a Friday and stay home the rest of the weekend. Belle answered all of my questions and concerns and made me feel comfortable. She is a true professional and I highly recommend her.
If you are looking for the eMatrix fractional laser in Delray Beach Fl area, Natural Beauty Laser is your place to go.