Chemical Peels
Our Medical spa in Delray Delray, FL have highly trained medical aesthetics team that can help you achieve the healthiest, most beautiful skin and appearance of your life.
With combination of laser treatments and chemical peel we will be able to effectively treat and address the common skin conditions as hyperpigmentation, anti-aging and acne.
encourages exfoliation, removing the damaged outer layers of skin, brightening the tone and smooth the texture, to restore healthy skin.
PCA chemical peels create minimal discomfort and produce beautiful and immediate results for most patients. In many cases it is more effectives when combined with our facial laser treatments.
In our youth, skin cells naturally turn-over every 18-20 days resulting in a healthy vibrant look.   As we age this process slows down giving us a dull, chalky appearance. Chemical peels stimulate cell turn-over to give back that radiant look we remember.
We offer a variety of PCA Professional™ products and treatments designed to improve and enhance your skin's appearance. Formulated to work synergistically with PCA SKIN® Clinical Home Care Products, to help reduce the depth of surface lines, smooth rough skin texture, treat skin discoloration and redness, and assist in clearing acne or blemished skin.
The naturally occurring ingredients in PCA SKIN™ products loosen dead cells from your skin's surface, revealing new, healthy cells, for smooth, radiant, glowing skin. Ask us to create a customized treatment plan that will address your personal skincare needs.
The Perfect Peel / VI peel is considered a Medical grade peel and is effective in delivering a vast improvement with just 1 treatment.  The Perfect Peel / VI Peel works from the inside to repair and nourish the skin by giving it a radiant glow, refining pores, improving skin hyperpigmentation, lifting melasma, diminishing fine lines and wrinkles, eliminating acne and preventing acne marks.  Most importantly, the glutathione element defies the aging process. Glutathione penetrates deep into the cellular level of the skin to fight oxidant damage and is the anti-aging answer to premature wrinkling. Glutathione is proven to reverse the melanin's metabolism turning dark pigmentations (eumelanin) into light pigmentation (phaeomelanin).
The peel is not painful during application and entails a slight sting for the first 30-45 seconds.  Patients will experience peeling throughout days 3-6 and will be completely finished with the peel process by day 7.
*All chemical peels require a professional consultation and home care products 2 Weeks Prior to a peel to pre-condition and prepare the skin for exfoliation and to avoid complications. Special deals are available.
Before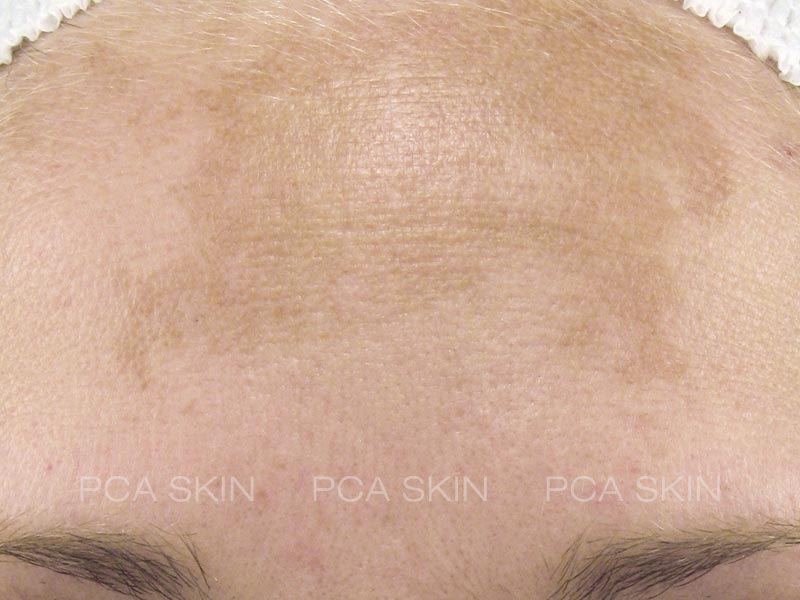 After